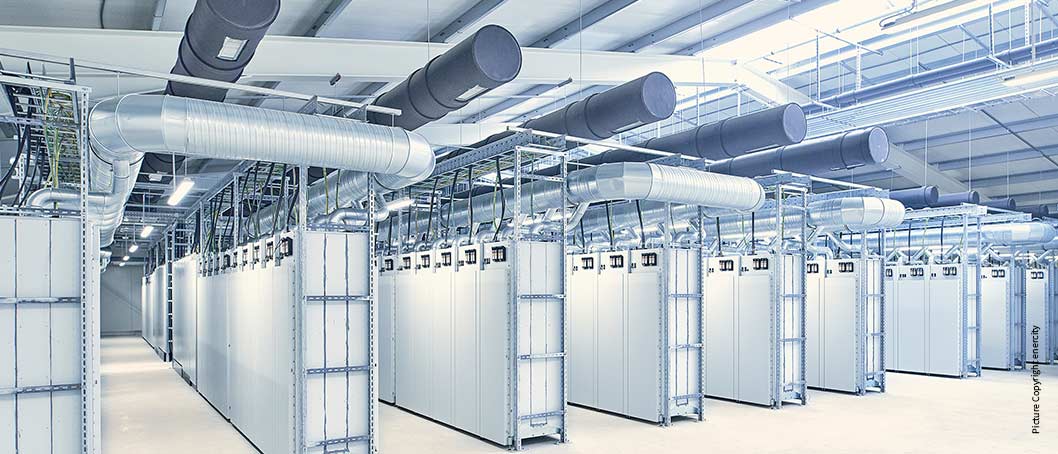 HKW Herrenhausen - Stationary battery storage system
Location: Hannover, Germany
System/Technology: SPPA-T2000
Services: Commissioning, Project management, Documentation, Basic-engineering and pre-engineering, Detail engineering
Industry Branch/Type of Plant: Green Energy, Transmission & Distribution, Power Generation, Other Industry Sectors
Client: Enercity Hannover
Activity period: 2016-2017
Project description
From 2016 to 2018, a stationary battery storage system with a total modular capacity of up to 17.4 MW was built in Hannover at the site of an existing power plant. The facility is intended to serve both for balancing power marketing and for the intermediate storage of daily surpluses, e.g. from wind power, and to support the city's power grid when needed. The special feature of this system, in addition to the large capacity, is an innovative approach to the assembly of the battery modules.
Here, no used battery modules or battery modules specially manufactured for the battery storage system are used, but brand-new batteries intended for use in battery-powered vehicles. This takes advantage of the fact that new battery modules should be subjected to a continuous flow of charge to prevent aging.
The limits of the battery modules are exploited by a complex control and regulation concept in such a way that the storage capacities required for the battery storage system can be made available without this impairing the subsequent intended use. In this way, the storage capacity can be combined with the energy supply to form an active spare parts store.
Planning and programming of the DCS
Connection and integration of the battery storage into the main control system
Integration of the algorithms and the interface for balancing energy marketing
Support of the qualification measures
Buffering/storage of the decentrally generated daily surpluses (intra-day buffering)
Commissioning of the DCS