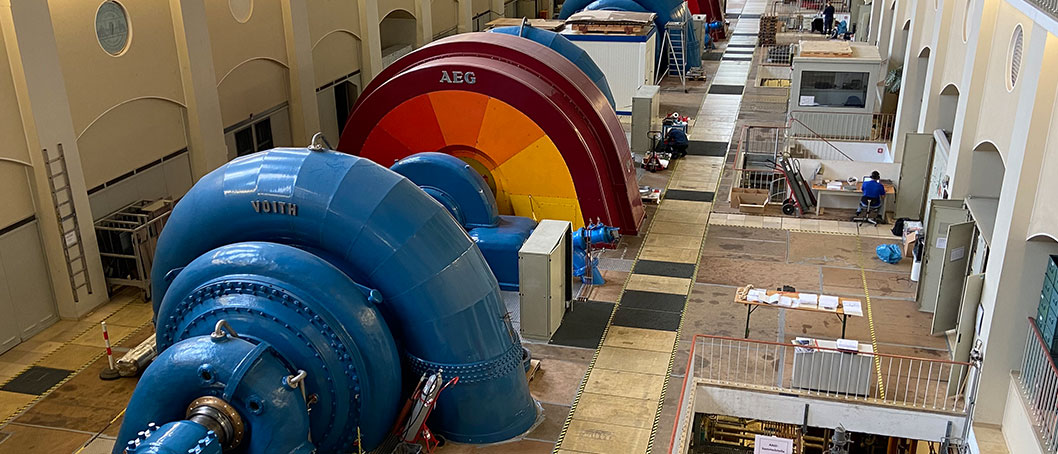 Pfreimd Power Plant Group - Hydro Electric PP
Location: Pfreimd/Trausnitz Oberpfalz, Germany
System/Technology: S5,S7,PCS7, E-Plan P8, SIPROTEC, SIVACON, LST, Gustav Klein
Services: Production monitoring, Commissioning, Project management, Quality assurance, Site management, Documentation, As-built status and data recording, Pre-project planning and tendering, Basic-engineering and pre-engineering, Detail engineering, Installation supervision, Operations, Maintenance, Training
Industry Branch/Type of Plant: Green Energy, Power Generation
Client: engie Deutschland
Project Size: > 1 m EUR
Activity period: since 2017
Project description
The Pfreimd power plant group consists of three storage lakes, one run-of-river and two pumped storage power plants. In the context of the energy transition, it is considered an essential component in the renewable energy mix. Due to its black start capability on the one hand, and its highly accurate and over-fast deployment capability for grid stability on the other hand, it contributes as an indispensable element to the turn towards green energy in Germany.
The operator of the power plant group, engie Deutschland GmbH, is investing double-digit millions in each of the two major overhauls in 2020/2021 to modernize the main structural, mechanical, electrical and I&C components.
INP Deutschland GmbH is contributing to the success of the site overhaul for continued secure operation over the next 20 years through the extensive services listed below.
Electrical and I&C as-is survey at the central site and all outstations of the Pfreimd power plant group
Electrical and I&C evaluation of the entire plant
Elaboration of a list of measures required for migrations to ensure reliable operation for another 20 years
Concept development & implementation support for planning, modifications, commissioning up to acceptance of the specified electrical and I&C implementation measures, e.g:

Renewal excitation
Renewal el. protection
Exchange of DC supply
Migration PCS7 incl. optimization measures
Replacement of telecontrol
Replacement of DIMOS hazard alarm system
Replacement of S5 periphery with Teleperm analog/binary measured value processing
Electrical and I&C integration of new power plant technology, such as additional run-of-river turbine, new machine transformers
I&C integration of the new HP gate valves (70t) at the pumped storage units
Major revision 2020:
Head of commissioning electrical engineering
Commissioning support in electrical engineering
Consulting electrical engineering on the above-mentioned implementation topics
Consulting I&C on the above-mentioned implementation topics
Major revision 2021:
Complete implementation (concept, planning SW and HW, delivery, installation, commissioning) for the I&C integration of the new HP gate valves
Complete implementation (concept, planning, delivery, installation, commissioning) for migration of Teleperm transmitters with S5 peripheral modules to new Siemens ET200SP HA peripherals incl. associated software adaptations in S5/S7/PCS7
Consulting electrical engineering for above mentioned implementation topics